If you are familiar with Heer Waris Shah you would know that in an attempt to make it the "biggest" Heer, many publishers got new verses written in the name of Waris Shah and completely spoiled the original text. This continued for decades till the research work dedicated to cleaning the text of this garbage was undertaken in both Punjabs and an authentic version was published. To give you an example, a very famous band, sung by many singers ਡੋਲੀ ਚੜ੍ਹਦਿਆਂ ਮਾਰੀਆਂ ਹੀਰ ਚੀਕਾਂ ਮੈਨੂੰ ਲੈ ਚਲੇ ਬਾਬਲਾ ਲੈ ਚਲੇ ਵੇ isn't written by Waris Shah. Even Gulzar fell for it when he included it in the album called "Heer by Abida" he did with Abida Parveen
Now coming to why I am posting this, I got this book by Bakhshish Singh Nijjar a decade ago but never really got a chance to read it. This is a book of 500 pages and that was the reason I got it as I wanted to understand Heer Waris Shah in detail.
Finally, now, for a week or so, it was on my desk and I spent some time reading some random pages and it seems to be based on one such "sab ton waddi" edition of Heer. It contains such surprisingly vahiyaat stuff. See, for example this band supposedly about a dialogue between Ranjha turned Jogi and Sehti:
Same author has also published Heer Waris Shah text in a separate book and here is a look at the first band: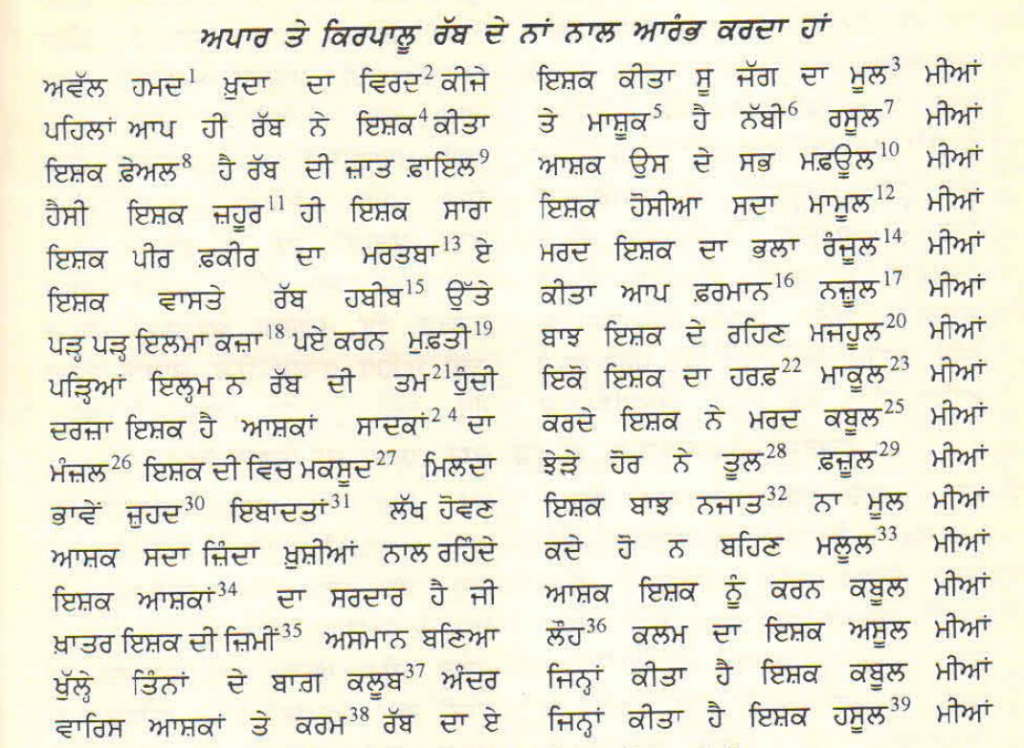 We all know that first band in original text is just this much:
ਅੱਵਲ ਹਮਦ ਖ਼ੁਦਾਇ ਦਾ ਵਿਰਦ ਕੀਜੇ, ਇਸ਼ਕ ਕੀਤਾ ਸੂ ਜੱਗ ਦਾ ਮੂਲ ਮੀਆਂ ।
ਪਹਿਲੇ ਆਪ ਹੈ ਰਬ ਨੇ ਇਸ਼ਕ ਕੀਤਾ, ਮਾਸ਼ੂਕ ਹੈ ਨਬੀ ਰਸੂਲ ਮੀਆਂ ।
ਇਸ਼ਕ ਪੀਰ ਫ਼ਕੀਰ ਦਾ ਮਰਤਬਾ ਹੈ, ਮਰਦ ਇਸ਼ਕ ਦਾ ਭਲਾ ਰੰਜੂਲ ਮੀਆਂ ।
ਖਿਲੇ ਤਿਨ੍ਹਾਂ ਦੇ ਬਾਗ਼ ਕਲੂਬ ਅੰਦਰ, ਜਿਨ੍ਹਾਂ ਕੀਤਾ ਹੈ ਇਸ਼ਕ ਕਬੂਲ ਮੀਆਂ ।
Now this book "PaRchol te Visthaar" does explain in detail about a lot of aspects of Heer Waris Shah but since it is based on a text that isn't authentic, I don't know how much sense it makes to rely on those explanations. If you want to read an authentic text in Gurmukhi, pls get the one edited by Dr Jeet Singh Seetal. He was the one who lead the work on finding the original text of Heer. It is available on Amazon. If you want to read it online, you can read on punjabi-kavita.com.